2022's Connecting Womxn of Color Conference celebrates storytelling through art
October 23, 2022 By Amy Jablonski and Andrea Padilla
https://www.thecollegianur.com/article/2022/10/2022s-connecting-womxn-of-color-conference-celebrates-storytelling-through-art
In the galleries: Artists pair up to create a third identity, or when 1+1 equals one.
November 19, 2021 By Mark Jenkins
[In a video, Carolina Mayorga superimposes her pink-tinted performance over Armando López Bircann's setting.]
ARTidotes: How one artist used art to get through COVID-19
July 22, 2021 – by Madison E. Goldberg
The world of fine art can easily become a competitive space, with artists fighting for gallery representation and to reach critical or commercial success. But at its core, art is a creative outlet for expression and healing. This is what D.C.-area Colombian artist Carolina Mayorga aimed to accomplish with ARTidotes, a series of multidisciplinary exhibitions at a community art gallery.
Life as we know it completely stopped in March 2020 amid the outbreak of COVID-19 — and who better to capture the emotions, the tragedy and the triumphs of the past year than artists. The project began before the pandemic even started but took on a new meeting in the height of the outbreak of COVID-19.
"The name is terrific because it is understood in both English and Spanish. In fact, it has been a bilingual project because I have invited artists from other countries who speak Spanish — artists from Colombia, from Mexico," Mayorga says.
This six month-long interactive series of exhibitions took over the Joan Hisaoka Healing Arts Gallery at the Smith Center for Healing and the Arts in Washington, D.C. and was managed by Lindsey Yancich. The goal was to provide a healing and supportive environment for viewers.
"I always do many projects that are specific to the gallery, so I came up with the idea of ​​ARTidotes to be a larger, community project, with the participation of many artists and [to] use art as a tool not only curative for the people who reach them, but for the artists themselves. The project started much earlier, and then, when the pandemic started, it became more relevant, and even more important," Mayorga says.
ARTidotes featured six in-studio multidisciplinary artists from different cultural backgrounds, and inhabited the gallery's physical space during much of the six-month period that coincided with the height of the pandemic. Some installations featured combined elements of video, dance, drawing and painting. While there were capacity limits on how many people could come to the gallery in person to view the show, the majority of exhibitions and performances are still viewable on Facebook and Instagram.
Irene Clouthier, a Mexican multidisciplinary artist and writer based in D.C., curated the exhibition, in partnership with the Capitol Hill Arts Workshop. Of the 20 artists who participated, 16 of them women, each one worked to answer the question: "What is your ARTidote?" They crafted a work of art in response.
"We wanted to have a show where she was the number one female charge, meaning that most of the artists that we invited to participate were women," Clouthier said. "So we made a very diverse, inclusive group of people."

Clouthier adds that the exhibition included local artists from Polynesia, Iran, Chile and Colombia.
Carolina Mayorga's exhibition combined drawing, painting and dance, creating a pink paradise of tutus and paint. Much of Mayorga's work examines the complex identities of female-identifying immigrants and Latina women through the use of traditionally feminine mediums —including dance, song, cultural traditions and of course, plenty of pink. Her ARTidotes exhibition echoed some of her prior work, including her 2017 "Maid in the USA" sidewalk installation, "Self Celebration," and "Lady Libertad," another exhibition at the Joan Hisaoka Healing Arts Gallery.
"I have always had this idea that art should be for everyone and should be integrated into daily life, not only when we go to the gallery or when we take art class, but it is there. It is a healing tool," Mayorga says. "What inspired me the most during the pandemic was drawing. I have done nothing but draw. So it is like a tool that serves us all. If you are an artist, if you are not an artist, if you are a child, grown up, or of any color, wherever you are from, the language does not matter, because art is a universal language."
During a time when travel was restricted and in-person interaction was limited, ARTidotes connected artists globally and inspired them to learn from one another. The gallery served as an opportunity to learn more about other cultures and their own unique healing practices.
"I think we all found a need to share our own experiences with each other and find connections. We used the pandemic as a common ground affecting all of us as a way to understand each other's ways of living," Mayorga says.
The gallery featured several unique blends of artistic mediums. Heloisa Escuerdo's exhibit combined painting and drawing and a live portion in which she painted a 1970s car that has been in her husband's family for years. She painted on the car at the requests of the audience, some who participated from inside the gallery and others who tuned into the exhibition virtually via Facebook Live.
The series has one final installation — a collaboration with artist Edgar Endress set to be projected on the Inova Schar Cancer Institute in Annandale, Virginia during the last weekend of July.
"It's amazing, because people who are in rooms, who are not allowed out because of whatever they are going through, they're still going to be able to see and participate with the piece as well," Clouthier says.
"The whole message behind the whole exhibition was to use the power of art to be a healing element for all of us," She said, "because we all needed to heal from whatever we went through during COVID, and confinement, and all this time, and try to adjust to what normal looks like by now."
The upcoming installation at Inova Schar will be posted to the Joan Hisoaka Healing Arts' official Instagram.
Finding these artful animals around Capitol Hill is as easy as ABC
Washington Post, July 22, 2021
Story and photos by Fritz Hahn Illustration by Trina Dalziel for the Washington Post
You see the strangest things walking around Capitol Hill and surrounding neighborhoods: A koala playfully swinging from a lamppost; a pod of narwhals swarming around a street sign; a giant pink ant and an anteater facing off across an intersection.
The Capitol Hill Alphabet Animals, as they're formally known, are 20 public sculptures scattered throughout the area, mounted on lights and street signs.
The project was the brainchild of Stephen Young, a Capitol Hill resident who taught his daughters the alphabet by reading street signs. ("This is D Street. D is for Dog.") Young approached the nonprofit Capitol Hill Arts Workshop with an idea for mnemonic animal signs.
CHAW selected artists to make 10 animals come to life, with only a couple of restrictions: The sculptures had to weigh seven pounds or less, and had to be able to withstand the elements. Given a street letter, artists selected their animals. (Because of a limited number of east-west streets in the neighborhood, the Alphabet Animals also took up residence on diagonal thoroughfares, such as North Carolina Avenue SE.)
[excerpted]
10. CHAWmper the Grasshopper
Seventh and G streets SE.
I've always been interested in insects. I study their shapes and behaviors and connect them to my conceptual and aesthetical concerns. The simple and stylized shapes I chose are inspired by many years as a teaching artist for the youth arts program of Capitol Hill Arts Workshop, and influenced by my childhood visits to rural areas in my native Colombia. The fact that I often see the grasshopper, my first sculpture, across the street of the CHAW building — and have the opportunity to share it with my students on a regular basis — keeps it alive. — Carolina Mayorga
18. Ant
Seventh and A streets SE.
The use of pink for the ant is part of my longtime interest in the color as a beautifying agent that, when applied, offers joy and visual gratification. The sculpture was designed to incorporate the light pole, as I wanted the animals to follow a typical crawling-up gesture.
[Regarding the placement of the ant and the anteater at the same intersection:] Beth and I decided to pair the two animals. I believe I first expressed my interest in the letter A, as I've used ants in many other projects. Beth liked the idea and decided to make an anteater. We both thought the idea would add a fun/funny element as both animals interact visually and conceptually. — Carolina Mayorga
El arte es un antídoto frente a la pandemia, crean ARTídotos: un proyecto colectivo y expansivo
Noroeste.com.mx
by Nelly Sánchez, 18/02/2021 | 2:36 PM
El arte es un antídoto frente a la pandemia, crean ARTídotos: un proyecto colectivo y expansivo La muestra se lleva a cabo en la Joan Hisaoka Healing Arts Gallery, en el Smith Center en Washington, participan artistas multidisciplinarios: hay pintura, escultura, instalación, performance, video, música, talleres presenciales y en línea Nelly Sánchez
Carolina Mayorga, Fotos: Craig Garrett
Integrar el arte a la vida diaria y presentarla como un recurso terapéutico o antídoto para aliviar cualquier situación de enfermedad en la comunidad, es la premisa de la que parte ARTídotos, proyecto que reúne artistas multidisciplinarios en la Galería Joan Hisaoka Healing Arts, del Smith Center en Washington.
Se trata de un proyecto colectivo y expansivo, que de manera presencial y en línea, propone el arte en todas sus formas, pintura, escultura, instalación, performance, video, música, como una herramienta para curar aquellas afecciones que se han visto potencializadas durante la pandemia.
La idea surgió incluso antes de que comenzara el confinamiento, cuando la artista colombiana Carolina Mayorga, propuso a la creadora sinaloense Irene Clouthier, ser la curadora de este proyecto que reuniría a artistas de diferentes países y llevaron la propuesta a Lindsey Yancich, directora de la galería, que desde su creación en 2005, ha creído en el poder sanador y curativo del arte.
"ARTídotos es tomar el arte como un antídoto para lo que sea, siempre ha existido pero ahora se vuelve más importante y evidente, por la pandemia y el confinamiento, porque todos tuvimos que utilizar el arte como nuestro antídoto. Piensa en vivir en pandemia sin música, sin literatura, sin cine… No sobrevivirías", asegura Clouthier.
El origen
Mayorga tuvo la idea luego de una exposición en el museo de la OEA, el año pasado, a la que invitó a un grupo pequeño de artistas a participar en uno de los programas.
"Me quedó esa idea de hacer un proyecto y expandirlo más a los artistas, y surgió la idea de ARTídotos, le comenté a Irene y presentamos el proyecto a Lindsey", compartió Mayorga en entrevista vía Zoom.
"Como la misión de la galería es el arte como herramienta curativa, pertenece a un centro y que tiene un programa para pacientes terminales de cáncer y les propuse el tema de ARTídotos específicamente para este espacio".
El proyecto inició en enero con una intervención artística de Mayorga, en enero. Cada artista tiene la galería durante una semana para crear libremente su propio ARTídotos.
"Es una exposición que evoluciona, hay artistas de Colombia, muchos de Washington, músicos, artistas visuales, serigrafistas, cada uno tiene una semana, ya van siete en galería y luego una programación con el resto que van a hacer performance, incluso Irene está buscando un artista en México, que hará algo virtual, para tener más participación"
La filosofía del Joan Hisaoka Healing Arts Gallery
El Smith Center celebró recientemente su 25 aniversario y la galería abrió sus puertas en 2005, tiempo desde el cual ha trabajado de cerca con la idea del poder sanador y curativo del arte, como parte del tratamiento integral de la gente que se acerca a ellos.
"La misión es que las personas que se acerquen, cuidadores, personas con cáncer o sobrevivientes, encuentren la manera en que puedan sanar de la mejor manera, sea a través de los programas de meditación, yoga, de cocina, nutrición o los programas y talleres artísticos".
Los tratamientos de cáncer, agregó Clouthier, no son lineales, son de altas y bajas y cada quien elige si quiere un taller de yoga, arte, nutrición o todo".
Las tres coincidieron en que el arte es curativo y en tiempos como los que actualmente se viven, de pandemia, de confinamiento, es indispensable.
"Los que somos artistas es nuestra terapia para no volvernos locos, esa es la idea general del ARTídotos. Carolina quería un proyecto que incluyera la mayor cantidad de artistas y que ellos a su vez estén inspirando a otros a crear su propio ARTídoto", destacó la curadora mexicana que desde hace 20 años vive en Washington.
En total 18 artistas participando, entre 6 que están haciendo una mini residencia en la galería con proyectos in situ: Carolina Mayorga, Marta Staudinger, Travis Childers, Heloisa Escudero, Zsudayka Terrel y Rex Delafkaran.
Además, dos proyectos con instituciones externas entre ellos el Edgar Endress, que hará una intervención en el Hospital INOVA Schar Cancer Institute, talleres impartidos por artistas de diferentes disciplinas como el que hará La Colectiva un grupo de mujeres desde Bucaramanga, Colombia, Cheryl Edwards quien trabaja con el concepto del agua y las muñecas egipcias, Joan Belmar, quien impartirá su taller desde Nueva York, y todos los proyectos tienen que ver con la misión curativa de la galería y el poder curativo del arte.
A un año de la pandemia, el confinamiento y las posibilidades
Cuando el mundo se paralizó por la pandemia ocasionada por el coronavirus, compartió Clouthier, se bloqueó un poco, estaba paralizada, con ansiedad y miedo.
"No estaba produciendo y tuve que empezar a retocar trabajos anteriores para empezar a tomar el ritmo".
A Carolina Mayorga le pasó al revés, empezó a producir compulsivamente e hizo más de 500 dibujos en aproximadamente un par de meses.
Para la galería, compartió Lindsey, fue un reto tratar de llegar al público y seguir sirviendo a la gente, pero por otro lado se permitieron romper las fronteras.
"Cuando estábamos encerrados, porque el confinamiento no era opcional, el reto era tratar de seguir llegando a la gente a la que sirve y a la comunidad, pero por otro lado ha sido un reto pero nos ha permitido romper las fronteras, y hemos tenido gente participando en línea desde Panamá, Dinamarca, México, Colombia, diferentes lugares de Estados Unidos".
La pandemia, asegura Irene Clouthier, ha sido una gran oportunidad y ARTídotos ha tratado de meterse en esa parte de ese reto de tratar de expandirse.
"Tenemos artistas que vienen una semana cada uno, a trabajar solos en la galería. Hicimos la selección de los artistas, pero no sabemos tenemos una idea cien por ciento clara de qué es lo que van a hacer y lo estamos dejando abierto a que ellos tengan su momento catártico, solos en la galería y a ver qué pasa", señala.
"Todos hemos tenido que aprender a soltar el control, el tener una idea preconcebida de cómo tiene que ser el resultado, estamos dejando a los artistas en la galería y a ver que pasa, tenemos una idea de lo que harán, pero puede cambiar y estamos abiertos"
Compartió que una de las artistas lo que hizo fue una transmisión en vivo de una meditación, y la hizo sentada frente a los cuadros que pintó.
"Todos los artistas están tratando de salir del modelo convencional de lo que siempre habíamos hecho. Ellos experimentan y trabajan ahí y en un momento en que todos debemos trabajar desde nuestras casas, que les abran un espacio les cambia la estructura mental de los últimos 10 meses".
Los trabajos en la galería terminarán con Rex, un artista de ascendencia iraní que trabaja con cerámica y performance y después se llevarán a cabo los talleres que se extenderán hasta junio.
Entre los talleres, adelantó Clouthier, habrá uno en coordinación con Almendro Residencia, de Culiacán, en el que participará la artista Carmen Torres.
"Será en español, sin traductores, a ver qué sucede, a ver quién se mete, sin inscripciones, ni claves, totalmente incluyente".
LaColectiva expone en la obra internacional de Carolina Mayorga, ARTídotos
vanguardia.com, 22 de febrero de 2021
La inauguración de la performance podrá verse este jueves 25 de febrero a las 6:30 p.m. en el perfil de Facebook de ARTidotes y de la Joan Hisaoka Healing Arts Gallery, de Washington.
Vasalisa es el nombre de la protagonista de un popular cuento ruso que se extiende a otros pueblos eslavos y que narra la historia de una joven quien, al morir su mamá, recibe de ella una muñeca especial.
Tras comer un poco, la muñeca de Vasalisa ayuda a la joven a resolver todas sus penas y es así como la joven logra escabullirse de una terrible bruja ante la cual había sido enviada como una trampa por sus envidiosas madrastra y hermanastras.
También la ayuda a hilar unas preciosas prendas que terminan por enamorar al zar ruso.
En 1989, la psicóloga y escritora Clarissa Pinkola Estés reinterpreta este cuento su libro Mujeres que corren con los lobos y entrega el protagonismo a la muñeca de Vasalisa, a la que atribuye una sabiduría ancestral e intuitiva que debe regresar a las mujeres como una forma de sanación del alma y del cuerpo como un todo.
Es este 2021, el grupo de mujeres artistas santandereanas, LaColectiva, invitadas por la artista Carolina Mayorga, retoma la creación de esta muñeca y las tareas que Pinkola Estés propone a las mujeres que quieran hacerla para presentarla en un performance que inaugura este 26 de febrero la gran obra de Mayorga, ARTídotos, que se presenta en la Joan Hisaoka Healing Arts Gallery, Capitol Hill Arts Workshop, Inova Schar Cancer Institute, varios escenarios en el área metropolitana de Washington, DC y de manera virtual.
ARTídotos es una suerte de conjugación de antídotos que tiene sentido si se toma en cuenta que el tema central de Mayorga es el cáncer en todas sus manifestaciones.
"Decidimos enfocarnos en el cáncer que de alguna manera ataca más a las mujeres, que es el cáncer de mama. Hicimos una búsqueda bastante intensa y encontramos muchos colectivos en las redes sociales que nos muestran cómo es la parte visual y estética que viven estas mujeres cuando están en esa lucha en la que pierden sus senos", explica Lady Robles, una de las integrantes de LaColectiva.
Y agrega que "Y esto como símbolo también de fertilidad, todo lo que está conectado con la mamá alrededor de la maternidad, del cuidado. Empezamos a leer también simultáneamente a Clarissa Pinkola Estés, su libro de las lobas, como nos gusta decirle, que nos trajo unas ideas interesantes".
Así mismo, Robles explica que, desde diferentes posturas, quieren plantear una especie de ritual chamánico que, dentro de la performance, conecte a las mujeres con su sanación interior.
"Más allá de la enfermedad, queremos es crear un ritual chamánico, pensamos en la botica, en esos botiquines y en cómo hacer ese botiquín dentro de esa Vasalisa con cosas que nos ayuden a sanar y encontrar esa intuición de la que también se habla en el libro a través del cuento de la Vasalissa" indica.
Por su parte, Carolina Mayorga explica que, si bien para ella el arte ha sido siempre su pasión, durante la pandemia se aferró mucho más a éste y fue en esta sincronización de necesidad y oportunidad que su propuesta ARTídotos, tomó fuerza, aunque había nacido mucho antes de la pandemia.
"El proyecto es un proyecto colectivo y me interesa en esta oportunidad la participación de la comunidad, de los artistas. Invitamos a varios artistas de aquí de la zona (Washington), e incluso internacionales. Tenemos 17 artistas participantes, incluida yo. No es exactamente una exposición colectiva, sino que los artistas están respondiendo al concepto principal del proyecto, que es el arte como herramienta curativa", explica Mayorga.
Mayorga abrió la exposición con su performance Princesas, una instalación con muñequitas de madera sobre ruedas que se pueden mover por todas partes y que son "una referencia autobiográfica de mi hermana mayor y mía por mis abuelos, que nos llamaban las princesas".
La curaduría del proyecto está a cargo de la mexicana Irene Clouthier y patrocinada por la Capitol Hill Arts Workshop.
In the galleries: Perspectives on blending culture and identity
Washington Post
By Mark Jenkins Dec. 11, 2020 at 7:00 a.m. EST
Carolina Mayorga's pink boots. Wilfredo Valladares's charred rolling pins. Muriel Hasbun's folded-paper boats. These and other aesthetic talismans on display at Joan Hisaoka Healing Arts Gallery have been seen in various galleries and museums around the area in recent years. But they enter into a new dialogue in "Acceptar" (Spanish for "accept"), which gathers work by eight local artists with roots in Latin America. Each offers distinctive yet complementary views of how immigrants accept what curator Irene Clouthier calls "a new reality" and "a new hybrid cultural identity."
Such identities don't simply blend aspects of the United States and an artist's respective birthplace; the participants' interests and personal histories are diverse. For example, Honduras-born Valladeres describes himself as heir to "ancient Mayan traditions and culture." But Hasbun is just one generation removed from the old world — she was born in El Salvador to a French Jewish mother and Palestinian Christian father.
Known principally as a photographer, Hasbun represents momentous journeys with pictures and a video of paper boats, as well as an installation of dozens of such crafts. Whether buffeted by waves in the video or piled on the floor, the colorful paper vessels evoke not just migration, but also fragility. There's vulnerability as well, but also strength, in Valladeres's sculptural installation, which arranges those carved, blackened rolling pins around a cast-iron skillet whose bottom is curved into a relief sculpture of a woman's face. The assemblage feels both personal and as primal as fire.
Mayorga evokes ramshackle dwellings of her native Colombia and elsewhere with "Beautiful Facade," a pink-painted cardboard and wood model. The artist's trademark color also features in small videos, populated by paper dolls and giant boots, that can be glimpsed through the structure's windows. Blurring the divide between fine art and craft is Salvadoran American Erick Antonio Benitez's idea of acceptance, expressed here with three pieces that combine paintings and tapestries.
The four other contributors, all originally from Mexico, contemplate how they intersect with the culture, attitudes and politics of the country where they now live. Clouthier drew a set of 20 intentionally artless pictures of everyday places and things, and made one of the show's several wordy works: a neon broadside that reads "No Human is Illegal." Fabiola Alvarez Yurcisin, who works with found and often obsolete materials, constructed a cage inside which such terms as "asylum," "fear" and "wall" are reflected in a mirror. Restricting himself to a single word, Hoesy Corona dissects "white" into its individual letters, presented as a hanging 3-D cloud of "E's," "T's" and "W's."
No text is necessary for Gerardo Camargo's "You Can't Go Hungry in the Land of the Free," a stack of large aluminum trays used to serve Latin American foods, placed monumentally atop a fake-marble pedestal. This playful memorial recognizes the role of service workers and the taste for imported peasant cuisine. Culture becomes commodity, at minimum wage.
Aceptar: Una Exposición Colectiva Through Dec. 19 at Joan Hisaoka Healing Arts Gallery, 1632 U St. NW.
"This Just Appeared"
August 9, 2020
Georgetown Bidness
Email newsletter
July 30 2020
One day we'll have to explain to our grandchildren why – in July 2020 – there was nothing unusual about this picture. In an effort to activate some of Georgetown's storefront windows, local artist Carolina Mayorga is applying decals to the windows at 3237 M St NW (the former ALDO space). Part of her PINK series of improvised works inspired by surrealism, this site-specific installation incorporates vinyl cut-outs and includes a performance that will be livestreamed tonight at 7pm. Carolina has been infatuated with the color pink for the last six years, and is using cut-outs of different shades to create abstract and free-form visual expressions – immediately and subconsciously responding to current situations affecting us all. At least one more Georgetown storefront will be painted by a local artist in the coming weeks; stay tuned for more! And don't miss our Georgetown Murals & Public Art guide for a fun, self-guided walk around our most colorful commercial district sites.
Capitol Hill Arts Workshop, Eastern Market Main Street announce the return of the Capitol Hill Alphabet Animal Art Project with ten Additional Sculptures
The Capitol Hill Arts Workshop (CHAW), in partnership with Eastern Market Main Street (EMMS), is excited to announce the next phase of the Capitol Hill Alphabet Animal Art Project, a community-based public art project featuring installed sculptures on selected street signs in the Southeast quadrant of DC. In 2014, 10 sculptures were successfully installed through a pilot partnership with the DC Department of Transportation (DDOT). Funded by a recent grant from the DC Community of the Arts and Humanities, the Alphabet Animal Art Project will work with DDOT to install ten additional sculptures throughout Advisory Neighborhood Commission 6B to intentionally broaden the span of the Alphabet Animal "path." The new animal sculptures will be unveiled on Thursday, April 16, 2020 during Eastern Market Main Street's Third Thursday celebration.
"The Alphabet Animal Art Project is so special," says Hannah Jacobson, Project Manager, "and all of the sculptures both already completed and in production tell a story: individually in conversation with their street corners, their artists, and their materials, and together as a collective pathway encouraging new ways of engaging with spaces that may feel familiar. We are thrilled to be able to add another 10 animals to our community."
The Alphabet Animal Art Project was originally conceived by a father walking with his two children in Capitol Hill. As he walked past lettered street names, he pointed out, "K Street—K is for Kangaroo." He brought the idea to the Capitol Hill Arts Workshop (CHAW), and so the Alphabet Animals were born.
As a continuation of the previous 2014 project, the Alphabet Animals will follow in the
footsteps of their predecessors. CHAW has engaged with a roster of nearly all the original artists, including Beth Baldwin, Charles Bergen, Undine Brod, Susan J. Champeny, Breon Gilleran and Mary Frank in collaboration, Carolina Mayorga, Davide Prete, Evan Reed, and Maureen Smith.
Eastern Market Main Street preserves the historic corridor, supporting small businesses, and fostering a vibrant, neighborhood serving corridor through public and private space improvements, capacity-building resources, and community events and campaigns.
Since 1972, the Capitol Hill Arts Workshop (CHAW) has provided arts education to thousands of children and adults in the Washington region, especially from the greater Capitol Hill area. Through classes, performances, and exhibitions in visual and performing arts, CHAW brings together diverse segments of the population to connect through the transformative power of creativity. CHAW offers a tuition assistance program and flexible payment plans. CHAW is funded in part by the DC Commission on the Arts & Humanities, an agency supported in part by the National Endowment for the Arts. CHAW is a featured charity in the 2014-2015 Catalogue for Philanthropy, mentioned as Best Venue to See on the Cheap in DCist's 2014 Best Theater Venues in DC, the 2015 & 2016 winner for Best Arts Class in the Washington City Paper Readers' Poll, 2014 & 2015 Hilly Award winner for Best Arts Organization/Venue, the winner of the 2017 Irene Pollin Community Engagement Award through the NSO and the recipient of the Bloomberg Philanthropies' Arts Innovation and Management program.
(via Capitol Hill Arts Workshop. Photo of the current Grasshopper sculpture at 7th and G Streets, SE.)
In the galleries: Pink makes you think at OAS Art Museum of the Americas
Washington Post
by Mark Jenkins
April 19
Posing in photographic vignettes as various female archetypes, Carolina Mayorga once assumed the identity of Edith Piaf, whose signature song is "La Vie en Rose." But that's not the only source for the dominant color in "Pink Ranchos and Other Ephemeral Zip Codes," Mayorga's show at the OAS Art Museum of the Americas.
The Colombia-bred D.C. artist explored the museum's permanent collection and has displayed her favorites in a second-floor gallery. Alongside Mayorga drawings that comment on the pictures are Beatriz Briceño's oil of pink mannequins on an assembly line and Ignacio Iturria's landscape painted on corrugated cardboard.
Mayorga combines these precedents in her main-floor show, which opens with an array of miniature shacks made of cardboard and painted pink. Inspired by the tumbledown "ranchos" of an impoverished region in her birth country, the hovels contain tiny screens that play a video seen on larger monitors in the next room. It shows a pair of giant, spike-heeled pink boots that menace paper-doll people.
Pink aestheticizes difficult subjects, Mayorga noted while at a preview of the show. Thus the bubblegum-hued light that bathes a modified piano with six unmarked keys that actuate recorded voices rather than musical notes. The words are from testimony before the Inter-American Commission on Human Rights.
The final gallery features Mayorga's version of a Colombian children's game. A video instructs visitors how to construct an origami house of pink paper, then crush it and toss it into a pink box. The prize is supposed to be one square foot of one of those ephemeral Zip codes, but the artist designed the game to be unwinnable. In Mayorga's rose-tinted vision, pink doesn't mean easy.
East City Art Reviews—Carolina Mayorga: PINK Ranchos and Other Ephemeral Zip Codes
East City Art Reviews—Carolina Mayorga: PINK Ranchos and Other Ephemeral Zip Codes
By Claudia Rousseau, Ph.D.on March 26, 2019
As one approaches the spiral staircase of the Art Museum of the Americas, he or she is confronted by a large wall text concerning the featured installation exhibit. It begins with a quoted sentence concerning color:
"There is no transnational truth to color perception… It is society that 'makes' color, defines it and gives its meaning." -Michel Pastoureau
Pastoureau is the author of a number of books about the history and symbolism of colors. He has covered at least three, among them red. And the quotation is appropriate here. Carolina Mayorga has been focusing on the color pink for about seven years now, in performances and installations, and her use of this color in such abundance in this installation may, at first, be alienating. Having spent most of an afternoon researching the artist's history with it, it appears considerably more complex than one might at first think. Pastoureau's idea that society "makes" a color is certainly true. Our associations with colors are most heavily influenced by when and where we are living. A good example of this is the color red, which remains rather equivocal. On one side it is associated with divine love and the color of Christ's blood. On the other it is associated with fire and the devil—and everything in between.
So it is with pink. It is a color definitively associated with girls in our culture. Victoria Secret has had a special brand for girls for about ten years called "PINK" and I doubt anyone hasn't seen girls and young women wearing the brand on clothes that are not necessarily pink. It's quite brilliant—the name of the color in this case doesn't conjure it, but instead the VS brand. In a particular shade, pink is also the color of "Pepto Bismol", and thus associated by many with a particularly unpleasant sickness.
Mayorga has made pink her brand. Her aim is not to diminish, but to exalt the color that often appears in Latin American art, always associated with women and girls. It therefore connotes "sugar and spice, and everything nice" as "that's what little girls are made of," according to the nursery rhyme that we know all too well. From our childhoods then, pink is not only to be associated with women and girls, but with sweetness and niceness. Mayorga deliberately plays with this notion, using the color in representations of ranchos y cambuches(huts and shacks) that are the homes of the poor, the desperate, the alienated and the displaced. PINK ranchos and other ephemeral zip codesthus refers specifically to the oppression of women and girls especially, but more generally, to large portions of the populations of Latin American countries, especially those where the split in living conditions between the wealthy and the poor is extremely sharp, and where the violence and terror inflicted by governments and/or gangs is most commonly directed at families with children living in ephemeral housing and economic deprivation.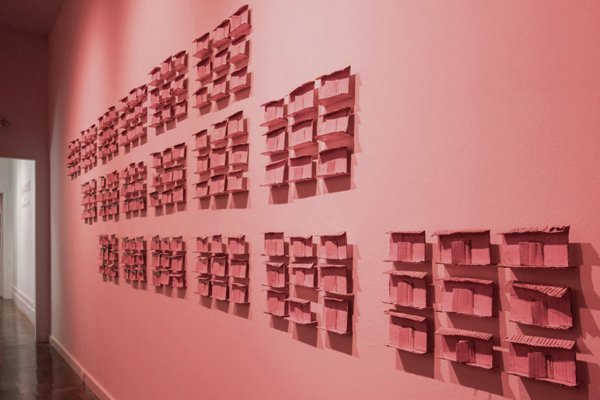 The works in the first room of the exhibit speak directly to this argument. In a completely pink environment—a kind of "pink wash"—one wall is covered with a series of identical little cardboard "houses" in low relief rows. This, the CG Prime Housing Projects, represents "better" pre-fabricated housing made for economically deprived people. But, they are still ephemeral—they're made of cardboard. They're "prime" because they're made from Amazon Prime boxes. Their pink color should mean they're nice, but of course, they're not. Yet, they are definitely a "step-up" from ranchos y cambuches. Across from this wall are a series of pink constructions representing those, each a bit more ramshackle than the next. Visible inside each is a tiny video screen. The videos tell the story that defies the "niceness" connoted by the coloration. In one the artist's signature pink high heeled boots come into to crush drawn paper dolls of a sad looking woman and girl. In others we see the artist's hand drawing the figures, only to be smacked away. The pink says, "everything is all right, in fact, it's wonderful." The images say the opposite. It recalls the kind of rhetoric you might have heard from a Daniel Ortega or a Nicolas Maduro.
The small videos inside the ranchos are scaled up in very large video projections in the next room. A piano altered by Alberto Gaitán, painted pink, sits in the center. When played, certain keys stimulate audio of testimonials given to the Inter-American Commission on Human Rights from victims of violence and oppression, while Mayorga's pink boots dance and crush paper dolls. The dance moves were performed at the opening of the exhibit while Juan Felipe Mayorga played the piano. They are elements of Cambuche Party: A Pink Musical, which the artist describes as "a performance composed of three musical numbers" inspired by life in "cambuches, ranchos and other ephemeral zip codes" and which is going on an international tour beginning in the artist's native Colombia this year.
The museum's invitation to Mayorga asked her to interact and respond to works in their permanent collection. Some of the works that inspired her are on display on the third floor, along with a few of her drawings related to that investigation. Among them, Ricardo Supisiche'sMujer Frente a su Rancho(Woman in front of her hut) of 1967 and Ignacio Iturria's Cuarto de Cristina(Cristina's Room) painted in oil on corrugated cardboard (Uruguay, 1992) seem the most relevant to the house constructions and the ranchosin the first room. Also significant were works by Cuban artist Amelia Pelaez in the collection, including the childlike Blue Angel(1945), the densely packed images of children and adults painted by Brazilian artist Rubens Gerchman, such as his Moradas Colectivas(Tenement Houses) from 1964, and the pink mannequins in The Dolliesby Panamanian artist Beatrix Briceño (1968).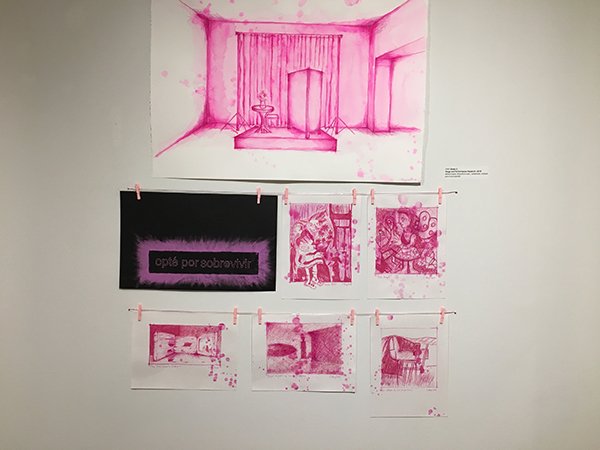 The influence of these latter works is most evident in the third and final room of Mayorga's solo installation on the floor below. Titled Square Foot Giveaway, the room contains the set-up for the children's game of Tejowhich involves throwing something at a low target to win a prize. Here the artist asks the viewer to fold an origami paper house (with a detailed instruction video on how to do this with the provided pink papers) and then, after all that, to crush it in his/her hand, and throw it at the Tejotarget. The prize would be one square foot of any zip code you like. Hitting the target is very difficult with the light crushed paper, and crushed origami houses litter the set-up.
Also in this room are a child's table and two chairs, and a composite drawing by Mayorga that appears to have been particularly inspired by Gerchman's Moradasand other works by this artist. The graphic quality is also reminiscent of Pelaez.
This is not Mayorga's first exhibition at the OAS/AMA, but it is her first solo. Combining drawings, constructions, interactive games, audio and video, it is a full immersion experience redolent with irony and social criticism. The term "ephemeral zip codes" may also point to the ephemeral lives of migrants. Thus, it points to the immigration crisis that we are experiencing at our southern border—a humanitarian crisis that is the result of government policies and prejudices against both economic migrants and families of asylum seekers, especially from the northern triangle of Central America: Guatemala, Honduras and El Salvador, where gangs and corruption have made the lives of the poor increasingly terror filled and impossible. "Pink washing" the situation there won't help. If only a part of the billions proposed to build a wall to keep them out were used to improve living conditions there, the crisis would be over.
Carolina Mayorga, PINK Ranchos and Other Ephemeral Zip Codes. February 14 – May 19, 2019. Organization of American States/ Secretariat for Hemispheric Affairs
AMA | Art Museum of the Americas, 201 18th Street NW, Washington DC 20006 .
When old pianos must go, it's a difficult parting — on many levels
Washington Post [excerpt]
"Second chances
The glut of free pianos is a blessing for some.
Last December, Washington artist Carolina Mayorga needed a pink piano for her interactive installation at Art Museum of the Americas. A Craigslist search for "free piano" turned up one in Gaithersburg, Md. It was pink. "It was crazy, but it was exactly the piano I needed," she says. "I just had to pay for the movers." She transferred it to a storage space and then to the museum. Total moving tab: $708. Her installation is now going to be shown at the Smithsonian Hirshhorn Museum and Sculpture Garden."
CAROLINA MAYORGA CREATES A PINK UNIVERSE
Arte Al Día (2019)
Today opens at the Organization of American States (OAS) AMA | Art Museum of the Americas, PINK Ranchos and Other Ephemeral Zip Codes, an exhibition by the Colombian-American artist Carolina Mayorga in dialogue with the permanent collection of AMA. Mayorga invites the viewer to enter a completely pink reality and experience their bi-cultural interpretations with respect to those who live inside ranches, cambuches, shelters and other ephemeral zip codes.
The project that starts today (February 14th) and takes place until May 1st consists of a site-specific production, the result of an artistic research on topics related to the home, the lack of housing and the artist's obsession with pink: the pigments are applied to women and children (characters typically associated with the home). Mayorga's work is also a recovery of her past in Colombia after 14 years of residence in Washington DC. In this way, the project establishes a dialogue with those who must go into exile or relocate throughout their lives.
The Colombian artist's project will be accompanied by artworks from artists such as Ignacio Iturria, Eduardo Giusiano, Ricardo Supisiche, Rubens Gerchman, Amelia Peláez, Consuelo Gotay, Dora Ramírez, Roser Muntañola and Roberto Matta -all of them members of the AMA collection-; all of them, artists that enhance the concept of Mayorga. Inside the exhibition room, an audio track juxtaposes testimonies recorded by the Inter-American Commission on Human Rights with visual gestures and dance movements. Mayorga's study of the AMA collection stems from an interest in exploring the works of artists who share their cultural backgrounds; establishes historical and social connections with the works based on their conceptual and aesthetic concerns. The result is Mayorga's appropriation and reexamination of these works, juxtaposing her "PINK-ified" perspective on life within ranches and huts as dictated by deprivation and abandonment.
Finally, it should be noted that within the period that the exhibition remains, Mayorga has prepared a program of public activities. Cambuche Party: A Pink Musical, which will take place today at the opening, is a musical performance inspired by the types of houses represented by the artist. It involved Juan Felipe Mayorga (piano), Daniela Zuluaga (performer), Carolina Mayorga (performer) and Alberto Gaitán (piano). Choza Artist Party, on March 21st, with the participation of artists Maribeth Egan, Heloisa Escudero and Jessica Kallista; a conference with curator Laura Roulet, on April 17th; and an activity for and by the community: Square Foot Give Away, on May 11th.
AMA from preview (2019)

Pink Ranchos: exhibición busca crear conciencia sobre la pobreza
Telemundo DC (Publicado lunes 18 de febrero de 2019 | Crédito: Claudia Curiel)
https://holacultura.com/hardscrabble-realities-in-rose-colored-hues/
La exhibición Pink Ranchos, ubicada en el museo de Arte de las Américas en la OEA, intenta crear consciencia sobre las viviendas improvisadas, conocidas en algunos países como ranchos, chozas o cambuches.
---
Radio interview, La Cultural (Bucaramanga)
La transformación de un hilo
Por: Ana María Escallón| Marzo 09, 2019
---
Spotlight on "A (GOOD) AMERICAN" exhibit
Good Morning Washington (ABC 7) segment
WASHINGTON (ABC7) — The "A (GOOD) AMERICAN" exhibit will open Friday, October 5, at the Heurich House in Washington DC. The exhibit examines the current immigrant experience within the United States and will be open through November 10. We were able to get the inside scoop from curator Philippa Hughes and director Kimberly Bender. We also spoke with artists Alden Leonard and Carolina Mayorga about their contributions.
---
NoMa BID Presents Carolina Mayorga Pink Infestation at the 1200 First St. NE Lobby
via East City Art
The NoMa BID is excited to announce another art installation opening at their latest Lobby Project installation. Carolina Mayorga's Pink Infestation will open on October 20th with a reception, artist remarks, and light refreshments. You won't want to miss it! They'll also have some interactive elements and drawing activities for attendees of all ages! PINK Infestation at NoMa will comment on issues of migration while providing the audience with an aesthetically pleasing experience of one of the most undesirable yet familiar infestations. Drawing, my choice of media for this project is also inspired by my experience of teaching drawing for children and adults for more than 15 years.
---
Cultural Identity and the Creative Process
April 2018 – Mindfully Creative Podcast
https://soundcloud.com/mindfullycreative612/episode-14-cultural-identity-and-the-creative-process
We, the creatives: Mayor Muriel Bowser presents 202creates
---
When Beauty is a Beast: Carolina Mayorga Invades the Capitol Hill Arts Workshop
Artist Carolina Mayorga at work installing her site-specific drawing at the Capitol Hill Arts Workshop.
It is often said that beauty is in the eye of the beholder. The giant fly currently buzzing across the Capitol Hill Arts Workshop's main gallery space certainly puts a new spin on that adage. Completed with oil pastels, artist Carolina Mayorga's gargantuan (10 by 12 feet) insect takes a visitor by surprise not only with its sheer volume, but also its neon-pink wings, legs and compound eyes. Where we might shrink away in disgust, Mayorga sees allure; our repulsion is an entry point for the artist's direct questioning of societal values concerning beauty and gender within popular culture.
When CHAW invited Mayorga to take over the space for its inaugural gallery residency, little did they know a figurative infestation would be the result. Mayorga has used the residency to create the third installment of Pink: The Art of Infatuation and Embellishment, an ongoing investigation that the artist states delves into, "the role that aesthetics and beauty play in popular culture." While the majority of the gallery walls are covered with drawings depicting moments in the life-cycle of the common house fly, the larger-than-life drawing of the fly captures center stage. The resulting work—using the gallery's wall as a canvas backdrop—will be painted over in thirty days' time, matching the lifespan of the common house fly.
While this iteration, which Mayorga has titled Pink Cycle: The Life of a Fly, is fairly straightforward in design, there is much to unpack within the individual components. On the surface, literally, there is all that pink. The color pink is a focal point as much as the subject matter. It comes in a variety of visual textures thanks to the different mediums the artist uses, including colored pencil, ink, watercolor, and pastel. While the textures differ, the hue is consistent across platforms. Rather than candy-colored, this pink is loaded with down with magenta tones that suggest blood-enriched flesh. It is an aggressive–almost assaultive– color choice that certainly aligns with Mayorga's desire to challenge both our definition of beauty and our biases towards assigning those ideals of beauty toward one gender in particular. Mayorga has an affinity for pink, noting how it can "magically turn [that which is unseemly] into something beautiful."
Beautiful is certainly not an adjective we normally apply to the common housefly. Mayorga has more apt adjectives, such as "dirty", "unclean" and "undesirable", acknowledging that for the vast majority of us "they are an unwanted insect." That disgust intrigues Mayorga, who seems to question how these negative affirmations developed in the first place. What are the societal "rules" that proscribe affinity and revulsion, and how are those rules delineated and enforced? In this context, the pink tones serve two overlapping purposes: to create the form of the insect and, more tellingly, to install a veneer of attractiveness upon the skeleton of that form.
In another artist's hands, this heavy reliance on the color pink might cause the entire project to lapse into the slapstick or the cartoonish; Mayorga approaches her subject matter through the eyes of Dr. Salk rather than Dr. Seuss. This is readily apparent in her various untitled small-scale drawings that hang opposite the site-specific component. These works, completed in her studio, reference biological drawings in their depictions of wings, legs and other body parts. A second set of drawings, featuring anatomically complete depictions of flies, creates an arcing storyline that suggests the entire lifecycle of the species. This suite of drawings in particular hints at the biological mechanisms that drive the interaction between individual insects.
That interaction subtly delves into the political meat of Mayorga's analysis of our social structures, as these small bugs are anthropomorphized stand-ins that mimic several facets of our human interactions. The artist notes that, "they [bugs] always have connections with humans," and though this particular chapter of Pink may not be as overtly political as prior works featuring insects (her 2013 installationInfestation at the Artisphere used ants to directly comment on immigration), her continued focus on the insect realm seems to suggest that the foundational structures that support our concept of humanity and differentiate us from the animal kingdom are merely thin veneers. With this installation, Mayorga posits that the way we define beauty is situational rather than intrinsic, subject to both caprice and bias.
One aim of the CHAW residency program is to provide insight into the artist's working process, and in this instance it moves Mayorga's solitary drawing into a public experience. While this should not be considered a performance piece (as defined by the artist's intent), it does share aspects of performance. Watching the artist work, I cannot help but notice how the spontaneity of her thought process is challenged by the precision of her mark-making; it appears that both facets of her artistic process seek to balance each other out. The installation is also both time-based and ephemeral, given the fact that the giant fly will "die" when the exhibition ends, never to be seen again. "I enjoy the pieces that don't last," Mayorga tells me, noting that she is "not that attached to the art itself," but more so to the ideas that inform the final result. It seems counterintuitive to state that this exhibition is a subtler delineation of her political views than previous chapters of the Pink saga, given the way the shades of pink assault the eye. But in this case, that subtly is warranted—perhaps even necessary—in that it forces the viewer to consider their own biases towards beauty rather than accepting Mayorga's viewpoint verbatim. Who knew the color of cotton candy had so much to teach us!
---
Pink: Life of a Fly runs through September 24th at the Capitol Hill Arts Workshop. A public reception to debut the site-specific work will take place on Saturday, September 10th from 5-7pm. For more information, visit their website here.
Editor's note: The article has been updated to include an image of the Mayorga's completed installation.
Tuesday, Aug 09 2016
•

12:30 p.m. (ET)
Through "The Looking Glass": Latin American Immigrant Artists in D.C.
Through "The Looking Glass": Latin American Immigrant Artists in D.C.
Building walls along borders are making national news, but at the Katzen Arts Center a local exhibit is about bridging borders. A new exhibition titled "The Looking Glass" highlights the work of ten artists from Latin America who now make their homes –and their living- in the D.C. region. We hear from two artists about how their experiences shape their art, and from the curator about the initiative highlighting the work of local artists.
Guests
Jack Rasmussen

Director and Curator, American University Museum at the Katzen Arts Center
Carolina Mayorga

Visual artist
Muriel Hasbun

Artist and educator
---
A (mis) Perceived Physique
Torpedo Factory's latest exhibit explores body politics, equity and power By Danielle Kent
A (Mis)Perceived Physique: Bodyscapes by Three Women Artists showcases pieces by artists Allana Clarke, Lauren Kalman and Carolina Mayorga, and together, they tell a compelling story about the use of the female body throughout art history and today. The exhibit explores issues of power and dominance, politics, memory and equity through two stunning photography series and a striking video.
"It really is about the past, present and future of the female body in art," says Kayleigh Bryant-Greenwell, the curator of the exhibit.
Bryant-Greenwell was always interested in the representation of the female body in art and, more specifically, artists' use of their own bodies in their artwork. She then decided to focus on the past, present and future of the female body in art after seeing the works of Clarke, Kalman and Mayorga, which are strongly influenced by that history.
"These artists are really talking about the story of art history," she says. "They were really excited to explore the portrayal of the female body in art by female artists."
In her grayscale photographs, Clarke, who is influenced by her experience as a black woman, portrays herself naked on the beach as she is slowly swallowed by the waves, depicting what she believes is a failed social and political system. Kalman's video, influenced by body image, captures nude figures balancing on oversized objects to depict a struggle between power and dominance. Mayorga, influenced by the religion in her home country of Colombia, recreates the ideals of womanhood in her photographs.
While the exhibit is not directly influenced by feminism, Bryant-Greenwell says she hopes that it will make people "think about today and the use of the commodified body in work." The artwork in A (Mis)Perceived Physique tells a narrative of the past and present, and what visitors take from it will affect the future.
"I do think that the visitor contributes the idea of the future in this exhibit. They see the past and present in front of them, and it makes them wonder," Bryant-Greenwell says. "The future aspect of the exhibit is the question, 'How far have we come and where are we going?'"
A (Mis)Perceived Physique: Bodyscapes by Three Women Artists opened Sept. 3 and runs until Oct. 16 at the Torpedo Factory.
http://www.northernvirginiamag.com/entertainment/entertainment-features/2016/09/07/torpedo-factorys-latest-exhibit-explores-body-politics-equity-and-power/
The Looking Glass (Mesera)
During the opening, a woman dressed in a maid costume and wearing no shoes carried a tray as she passed by the visitors at the gallery. She had tape over her mouth.
The woman was artist Carolina Mayorga, 45, who was born in Colombia. She arrived in the United States in 1995 to do graduate studies in sculpture at the University of Kansas in Lawrence.
Her portrayal of a waitress was her artwork titled "Mesera," symbolizing, she said, the struggles of those in the U.S. without legal permission. They are voiceless and don't have rights, so "you get what you get," she explained.
Through her art, Mayorga said, she wishes to be the voice for all people who come to the United States looking for "a better world."
–boston pilot
Some, admittedly, are heavy-handed, providing more proscriptive reads than open interpretations. A drawing and a collage by Lenny Campello blast the Castro dictatorship. Carolina Mayorga's video performance as waitress—with tray taped to arm, and tape-covered mouth—gives us the seen-but-not-heard cliché of the migrant service worker.
–washington citypaper
Among the other works are sculpture and installation, with political content that includes F. Lennox Campello's anti-Castro drawings and Carolina Mayorga's video of a gagged waitress.
–washington post
La Vie en Rose
In photographic tableaux she has exhibited previously, Carolina Mayorga posed as the Virgin, clad in robes worthy of a Renaissance canvas. Her current show, a few doors away from Honfleur at Vivid Solutions Gallery, tinkers with a different set of female (and male) archetypes.
"La Vie en Rose" combines the iconography of Marilyn Monroe, Edith Piaf and "The Wizard of Oz's" Dorothy Gale, juxtaposed with war toys.
In videos projected on the space's three solid walls, the Colombia-born D.C. artist sports a glitzy get-up and a conspicuously phony blond wig. She blows kisses and warbles about life in the pink, the song interrupted by the sound of gunfire. Pink also is the color of the running-soldier silhouettes seen in one video and of the toy tank and miniature GIs in the center of the room. They face a microphone that is attended only by a pair of ruby slippers.
The images pit innocence vs. experience, soft power vs. hard force. They're evocative, but hardly unexpected. "La Vie en Rose" is the first part of a multimedia series titled "PINK: The Art of Infatuation and Embellishment." Perhaps future installments will be more surprising.
–washington post
Tapestry, 20/20 Productions DC
3 part interview
The aim of art is to represent not the outward appearance of things, but their inward significance. – Aristotle
Carolina Mayorga's art is striking, captivating, poignant, thought provoking, and often humorous. As an artist, who provides visual commentary and critique on human issues that transcend geographic boundaries, her art is also essential.
Mayorga was born in Colombia and grew up during "a time of exacerbated violence". No place was safe. No one was safe. Violence was constant and far-reaching. Her recollections of this time are not just facts and events but are sensorial memories which include feelings, perceptions, and behaviours. Mayorga's earlier work often explored themes of war and displacement. Site-specific installations and video pieces called attention to the lives of victims, often children, impacted by crises. Through installations such as The Displaced , Orphans, and Snow Clock and video pieces such as LaVisita, Mayorga invited the visitor to experience the despair, loss, and hopelessness of these silenced victims. She captures the rapidity in which family life went from normal, happy, and loving to unforeseeable heart-breaking devastation.
Mayorga relocated to the United States 15 years ago to attend graduate school. At this time, the artist underwent a change in identity. No longer living in the country of her birth, she was now an immigrant in a foreign land. As an artist interested in social and political themes, Mayorga began examining issues of identity and otherness. To that end, she frequently uses her own image "as an interpretation of cultural, ethnic and gendered stereotypical identities".
One of her most recent photographic series is Divine Revelations. This series of self-portraits is inspired by the depictions of the Madonna in Italian Renaissance art. In preparation for this work, Mayorga traveled to Spain and Italy in 2009 and 2010 where she visited museums, palaces, and churches to examine the Madonna. She states that the Madonna delGranduca and Madonna and Child by Raphael inspired some of her compositions.
In a recent performance piece, Maid in the USA, the artist provides a commentary on stereotypes and the roles that are "often attributed to immigrants of Hispanic origin." In Maid in the USA, Mayorga, wearing a traditional Colombian Cumbia dress and holding a broom, cleans the performance site. She worked a seven hour shift as part of the performance. Her work sheds light on the very real and endemic stereotypes in U.S. mainstream media of women whose ancestral roots are in Latin America. While there has been much criticism of Hollywood's continued portrayal of stereotypical roles, they persist. One famous, recently deceased, U.S. actress of Mexican descent estimated she had been cast as a maid over 150 times.
Whether a site-specific installation, performance, photographic, or video exhibition, visitors are expected to interact with the work. Mayorga's art is intersubjective. The visitor becomes part of the work.
Mayorga is a keen observer of her surroundings. She draws inspiration from everyday life, her bicultural experience, and her upbringing. It is fitting that her artistic influences include Barbara Kruger, Marina Abramović, Edward Kienholz, William Kentridge, and Louise Bourgeois. While Mayorga does not consider her work as a form of activism, she states "I definitely have a message I want to convey. … I'm only presenting the issues. I pose questions and leave them open to interpretation."
Mongoos
By Donna Banks, Nov 18, 2013
MAYORGA IS A KEEN OBSERVER OF HER SURROUNDINGS. SHE DRAWS INSPIRATION FROM EVERYDAY LIFE, HER BICULTURAL EXPERIENCE AND HER UPBRINGING.
The aim of art is to represent not the outward appearance of things, but their inward significance.
– Aristotle
Carolina Mayorga's art is striking, captivating, poignant, thought provoking and often humorous. As an artist who provides visual commentary and critiques on human issues that transcend geographic boundaries, her art is also essential.
Mayorga was born in Colombia and grew up during a time of exacerbated violence. No place was safe, no one was safe. Violence was constant and far-reaching. Her recollections of this time are not just facts and events but sensorial memories which include feelings, perceptions and behaviours. Mayorga's earlier work often explores themes of war and displacement. Site-specific installations and video pieces called attention to the lives of victims, often children, impacted by crises. Through installations such as The Displaced, Orphans and Snow Clock and video pieces such as La Visita, Mayorga invited the visitor to experience the despair, loss and hopelessness of these silenced victims. She captures the rapidity in which family life went from normal, happy and loving to unforeseeable devastation.
Although born in Colombia, Mayorga relocated to the United States 15 years ago to attend graduate school. At this time, the artist underwent a change in identity. No longer living in the country of her birth she was now an immigrant in a foreign land. As an artist interested in social and political themes, it was logical for Mayorga to begin examining issues of identity and otherness. To that end, she frequently uses her own image 'as an interpretation of cultural, ethnic and gendered stereotypical identities'.
One of her most recent photographic series is Divine Revelations. This series of self-portraits is inspired by the depictions of the Madonna in Italian Renaissance art. In preparation for this work, Mayorga traveled to Spain and Italy in 2009 and 2010 where she visited museums, palaces and churches to examine the Madonna. She states that the Madonna del Granduca and Madonna and Child by Raphael inspired some of her compositions.
In another recent work, a performance piece, Maid in the USA, the artist provides a commentary on stereotypes and the roles that are 'often attributed to immigrants of Hispanic origin.' In Maid in the USA, Mayorga, wearing a traditional Colombian Cumbia dress and holding a broom, cleans the performance site. The artist's work sheds light on the very real and endemic stereotypes in U.S. mainstream media of women whose ancestral roots are in Latin America. While there has been much criticism of Hollywood's continued portrayal of such stereotypical roles, it persists. One famous, recently deceased, U.S. actress of Mexican descent estimated she had been cast as a maid over 150 times.
Whether a site-specific installation, performance, photographic or video exhibition, visitors are expected to interact or participate with the work in some way. Mayorga's art is a shared experience, one of inter-subjectivity wherein the visitor and the art actively engage. In so doing, the visitor becomes part of the art work.
Mayorga is a keen observer of her surroundings. She draws inspiration from everyday life, her bicultural experience and her upbringing. Her artistic influences include the works of Barbara Kruger, Marina Abramović, Edward Kienholz, William Kentridge and Louise Bourgeois. While Mayorga does not consider her work as a form of activism, she states 'I definitely have a message I want to convey. I'm only presenting the issues. I pose questions and leave them open to interpretation.'
In "Divine Revelations," Carolina Mayorga Toys With Catholics' Obsession With Virginity
Posted by Ashley Larkin on Nov. 9, 2012
In her mixed-media show at Vivid Solutions' temporary location, Mayorga is pictured as a virginal mother figure, sometimes with a rubber baby cradled in her arms. She says she found inspiration on a trip to Italy, where she saw Raphael's famous portrait La donna velata. She later decided to reconstruct the figure in her own image—but with a couple of subversions. In Mayorga's version, Madonna is a Latina woman, and she's wearing nail polish.In her latest installation, "Divine Revelations: Passages From the Life of Our Lady," D.C.-based artist Carolina Mayorga reinvents herself as a Virgin Mary-derived character—while abandoning the reverence that usually accompanies such a portrayal.
Mayorga says she hopes to dismantle the troubling virgin/whore dichotomy perpetuated in part by religious iconography. "I am questioning the role of women and how we are still perceived with all these stereotypes, characteristics that we should have, like being pure, being a mother," she says.
Though, while "Divine Revelations" critiques Catholicism's obsession with the virgin mother, Mayorga says she's deeply interested in the tradition. "I still have this fascination for the characters, for the Biblical, more historical part of it," she says, pointing to her own upbringing in a religious Colombian society. "Catholicism is more part of the culture instead of just being a religion. You don't actually choose to live Catholic—you're just born Catholic and you're raised Catholic because that's what we do."
Mayorga has dealt with Latina identity in her work before. For the Corcoran's "Take it to the Bridge" series this summer, Mayorga outfitted herself in a traditional Colombian dress and flitted about the gallery's glass performance bridge, tidying up with a broom and a squeegee. Staged over Labor Day weekend, it was a provocative comment on so-called immigrant work in the United States.
Similar to her "Divine Revelations" installation, Mayorga utilized her own appearance to create a character—an artistic practice she says she has been developing for several years now. "I create all these characters based on myself, based on my background," she says. "It's bringing what I can to these characters." But while her experiences as a female Latin immigrant (she is a naturalized U.S. citizen) have offered bountiful artistic windows, she says she feels less connected to South America now that she is living in the States.
"I've been in this country for maybe half of my life already, so I definitely don't feel that I am from Colombia anymore," she says. "But I'm not from here either, so it's like this mix of two cultures—what I grew up with and my experience here."
"Divine Revelations: Passages from the Life of Our Lady" is on view at Vivid Solutions' temporary satellite gallery at 1922 Martin Luther King Ave. SE to Dec. 21. Free. Mayorga participates in an artist talk at the space on Dec. 1 at 2 p.m.
---
Carolina Mayorga
By Michael O'Sullivan Friday, November 2, 2012
On Friday, the Anacostia neighborhood plays host to two art openings you won't want to miss. From 7 to 9 p.m., Honfleur Gallery unveils the latest solo exhibition by Michael B. Platt. Called "Steppin' Out," the show features digital prints of the human figure, influenced by a recent trip to Australia, that are reminiscent of the Washington artist's life-size cutouts from the 1980s and 1990s.
Around the corner, from 6 to 8 p.m., the Gallery at Vivid Solutions — temporarily housed in a satellite space — will host an opening for "Divine Revelations: Passages From the Life of Our Lady." Inspired by Roman Catholic iconography, Carolina Mayorga's series of photographs re-imagines the artist as the Virgin Mary, in a commentary on gender and cultural identity.
The opening will include a performance by Mayorga at 6:15 p.m.

PRINT VERSION (PDF)
---
Artist Carolina Mayorga, on her upcoming installation "Divine Revelations" at Vivid Solutions Gallery
Posted By Eric Hope
On October 30, 2012
Here at East City Art we don't allow pesky annoyances like hurricanes to get in our way of bring you the latest exhibition news. As the first bands of rain threatened on horizon, artist Carolina Mayorga and I put aside our pre-Sandy preparations to discuss her upcoming exhibition, Divine Revelations: Passages from the Life of Our Lady at the Gallery at Vivid Solutions in historic Anacostia.
Mayorga's artistic practice is grounded in performance pieces and installations designed to confront viewers' perceptions of social and political norms. Followers of her work know she doesn't shy away from addressing gender and cultural stereotypes with performances that, while playful, hold a mirror up to ways in which the "majority" attempt to define social norms (Maid in the USA, recently staged at the Corcoran Gallery of Art, is a great example). For Divine Revelations, Mayorga delves into religion, turning the gallery's walls into a site-specific, salon-style tableau (ir)reverently honoring the Virgin Mary while simultaneously investigating how religion and the modern art marketplace shape our understanding of religiously-inspired gender stereotypes.
Born in Columbia, Mayorga grew up a "cultural Catholic", noting that in many Latin-American locales, Catholicism is as much a cultural identity as a religious doctrine. While her personal views on religion have morphed over time, she has a maintained a fascination with the spiritual iconography of her youth. As an artist investigating cultural stereotypes, she also believes that this iconography injects a religiously-based bias to our understanding of gender roles, additionally becoming an instrument of monetary value within the modern art market. By casting herself as a modern day Madonna (with child) she's challenging herself as much as her audience to see just how the Church's use of Mary has influenced our views on what denotes the "perfect woman".
Mayorga tells me she has been thinking about this issue for several years before deciding that the Vivid gallery's space would provide the perfect backdrop her photographs, manuscripts and performance pieces. Renaissance imagery, especially Raphael's works Madonna del Granduca and Madonna with Child served as focal point of her investigations, with research visits to sites in Spain and Italy serving as additional artistic fodder for her to ponder. An exhibition of Medieval illuminated manuscripts at the Getty Museum in Los Angeles further informed the written components following the life of Mary (which Mayorga has wryly tweaked for her uses; Mary now crosses the Anacostia River rather than the desert).
Upon entering the space, gallery-goers are immediately confronted by a bright red wall containing dozens of versions of Mary in all her grace, hung salon-style without seeming regard for composition or particular ease of view. The wall color as well as jumbled composition harken directly back to the Renaissance, when images of Mary would have covered cathedral walls, and Mary was revered both as a religious icon but also a model of piety and saintly womanhood. Other walls of the gallery remain stark white, with religious "texts" placed uniformly at eye level as one would expect to see in a modern art show. Photo courtesy of Carolina Mayorga.
The images are initially straightforward. A serene-looking Mary, a vision in fabrics of blue and red, gazes sweetly down on the audience, while passages from her life's story are presented on adjoining walls. But then you begin to see subtle incongruities. Mary is a Latina (something we certainly don't see in Renaissance works). She's wearing nail polish. An innocent-looking Jesus is in reality a rubber doll. And those supposed religious manuscripts lauding Mary's crossing of the Anacostia? An obvious work of fiction. What exactly is she trying to tell us?
It's a complicated answer. But then religion and its influence on gender norms is a complicated topic. Here Mayorga brings it down to her level, imagining for herself not only as a mother, but also as an image of virtue to which woman are taught to obtain. "I start with myself and hopefully that will reach other people," she tells me, stressing that,"Catholicism is my experience, but religions are often similar in the way they [personify] women." How many girls have been raised in the image of Mary and strive to keep those characteristics, never mind the biological impossibilities behind her noteworthy claim to fame? While Mayorga is thinking about her specific, personal experiences (she actually felt stirrings of childhood spirituality when donning the garb), she believes there is a universal dynamic of what it means to be both a woman and a mother that runs through many major religions that her audience will connect with.
While the photos and texts on the wall offer reflective contemplation, Mayorga wants to push our buttons further with her performance component of the exhibition. She requested that few details be written about, so as not to give readers preconceived ideas, but suffice to it say she's interested in how the art world validates these representations of Mary (as ideal woman) by bestowing worth upon them. Installations featuring multiple mediums are hard to codify, and I asked her what part of her installation is "more important" to her message – the photograph that will stand the test of time, or the performance that, while documented, will be a fleeting experience. She notes that in some of her projects she could answer that question easily, but in this case the performance will be integral to the photos, imbuing them with an art-world context that they otherwise might not have. Installation view. Photo courtesy of Carolina Mayorga.
In closing, I asked Mayorga what she hopes her audience will take away from the exhibition. She notes that while it's a statement on how women in general are portrayed in religion, she hopes that using her own likeness will make it easier for viewers to examine how their own religious beliefs effect their understanding of social norms. Will it move you to do so? Find out November 2nd when Mayorga puts each component of her exhibition together for the first time.
---
Take It to the Bridge, Week 7: "Maid to Order"
Posted by John Anderson on Aug. 31, 2012
This weekend in the Corcoran bridge: identity politics! Saturday, the Take It to the Bridge series hosts Carolina Mayorga's "Maid in the USA," in which the artist will be engaged in a constant act of tidying up the gallery's entryway.
The performance does something similar to the movie A Day Without a Mexican, drawing attention to residents that many Americans choose to ignore, despite the fact that the United States' economy has become increasingly dependent on the contributions of immigrants.
Mayorga's performance addresses stereotypes of Latin Americans, embracing a population that some politicians would like to sweep under the rug—even while some newcomers might be sweeping their patios. Costumed in a dress typically worn for Cumbia dancing, Mayorga not only makes visible the act of labor, but seeks to reveal the cultural identity of the individual.
Take it to the Bridge runs to Sept. 15 at the Corcoran Gallery of Art.
---
Carolina Mayorga: An Artist as Art
By Bryanne Leeming
Performance artist, painter, photographer, videographer, social commentator, and creator of characters — Carolina Mayorga remains hard to define into a particular mold as she embodies so many. She is a presence made up of many different characters, yet always stays true to her Colombian roots. She majored in cultures in the states, which allows her to communicate her ideas through different types of art. By not focusing on one particular medium, she creates her own image as an artist in the way she lives her life and the messages she delivers in her work.
"I do a little bit of everything. Sometimes you're not great at anything, which also gives you the opportunity to try many other things and combine different mediums. One of my first performance pieces was in 2005 and I've been doing it more often since then."
Last year, at the AiOP festival, Carolina came dressed as a new character: The Miraculous Artist. She walked up and down 14th street in a vibrant outfit of contrasting colors selling prayer cards for a dollar each to passersby, claiming the cards would bring "health, prosperity, and love" to buyers.
Performance art has its roots in early avant-garde movements of Europe and the US such as Futurism, Dada, and Surrealism. Mayorga's performances are less abstract than the early Dada performances in the Cabaret Voltaire, and instead are based on realistic characters in a satirical way. However, both start with social critiques and carry a strong message in a public platform. By including herself in her art, Carolina Mayorga personalizes the message, often focusing on themes of Colombian poverty, Latino stereotypes, and the dangers of large institutions and mass consumption.
AiOP: How do you compare performance art to other mediums? Do you find it easier to get your message across through performance art?
Mayorga: It depends on the concept. I think some things work better with performance art, where something else will work better in photography or video depending on the idea. One thing I like about performance art is that it's immediate. You get it out of your chest very easily. Once it's complete, you can move on to your next adventure. Compare that to other types of media where you can keep thinking about it after and it can take you so long to put it together that the concept can get lost in the technicalities. With performance art, when you're finished it's like a release and you can go on to your next project after.
AiOP: Where do your ideas come from?
Mayorga: Mostly from my Colombian background. I take a lot of inspiration from infomercials as well and ideas of consumption. I put together videos where it looks like I'm selling products from South America. I create characters. 'The Miraculous Artist' character is based on the Virgin Mary because I was raised Catholic in Colombia. When you're born in Colombia, you're born Catholic. You don't choose it! I played with that and at the same time I turned it into an infomercial using a little bit of humor. I'm trying to push some ideas of what I think about religion and institutions.
AiOP: Is it a social critique?
Mayorga: Yes, I would say it's a critique of the institution and the way religion is presented to people. It sometimes becomes a sellable product. At AiOP, I was selling prayer cards and claiming that I would save people, bless them, and turn their lives around forever, and people were buying the cards! I always criticize consumerism in my work. They're always selling you something! The ultimate goal of 'The Miraculous Artist' is not about changing people's lives, it's to make money. I also did a project called 'Newspaper Soup'. It was a piece I created based on my culture where people would sometimes use newspaper in soup. I decided to turn it into a product I could sell to an American audience, and people bought it! I was standing at a food cart in front of the Convention Center in LA and selling newspaper soup for 99 cents. It tastes salty and looks pretty gross because with the ink, it turns brown. It's not very good looking, but it's filling.
AiOP: It seems like location is an important part of your work as you have performed and displayed your art all around the world. How do you change your performances based on where you are?
Mayorga: Sometimes I change it, depending on location because I always want to connect to a local audience. When I did it here in New York, I said the card was dripped in the holy waters of the Hudson River to connect to New Yorkers. It allowed me to keep the main concept but always change it a little depending on where I am. In LA, I made a little palm tree out of cardboard and put it next to all the real palm trees.
---
Carolina Mayorga: Artist profile

Photo: Stephen Mack
By Stephen Mack , DC Local Artists Examiner
July 18, 2011;
At Greater Reston Arts Center in late April, the face of a vibrant Latina woman beckons to visitors from every direction. The series is called Delights from South America, and the woman is advertising fruit in posters on the walls. A video projection simultaneously shows four images of her, holding up pineapples, bananas, papayas and tangerines with a salesperson's smile. The images on the posters are juxtaposed with written phrases like "I never saw the dead," and "We lost everything," pieces of testimonies collected by Colombian journalist Alfredo Molano. But the harsh reality of the words doesn't interfere with the gaiety of the female character, who doesn't just adorn the walls but prances around the gallery selling actual fruit to visitors—pineapples are $3.49 each. Her business card is a refrigerator magnet with a photo on the front, a close-up of piercingly pink high-heeled boots, presumably modeled and shot by herself.* This is Carolina Mayorga, once again playing the dual role of artist and art.
"I've always been interested in interacting with people," says Mayorga, who in previous works has played characters such as Super-Tina, a superhero who chases illegal immigrants; and the Miraculous Artist, a spiritual figure whose solution to all of life's ailments is a set of cards featuring her likeness for the low, low price of $3.99. "Definitely being there and performing helps for selling [the work on the walls], but actually I found that out after the fact."
Born in Colombia, Mayorga came to the US to study sculpture at the University of Kansas, and moved to Washington after earning her MFA in the late '90s. "The scene was a little different," she says. "It was more commercial galleries. It was a little hard for me to find a venue that would be interested in things like performance art and video … Nowadays it's much more open. There are more people interested in alternative kinds of art."
In addition to performance, video, and photography, Mayorga's work frequently incorporates painting, drawing, and computer graphics from Photoshop and Illustrator. Favorite themes of hers include war, the juxtaposition of her native and adopted cultures, and poking fun at the Catholic faith in which she was raised. "I get influenced by weird things, like for example going to H&M." She describes seeing a four-screen video advertisement in a store in New York, giving her the idea for the video in Delights from South America. The idea for the character she plays in the series came from the label on a pineapple she saw in a supermarket. "I used to be more influenced by artists before. Now it's more just things that I see around."
After saying she is in a state of "What's next?" she immediately describes plans for a new series in some detail. Inspired by paintings of the Virgin Mary she saw in Italy, and expanding on her stint as the Miraculous Artist, she plans on a series of photographs of herself as Mary. Visitors to the exhibition's opening would undoubtedly be treated to an appearance by the Blessed Virgin herself.
Mayorga notes the struggle to establish her identity in the local arts scene, saying she was often pigeonholed as a Latino artist. "I think I finally broke away from that, and I feel that even though my work is all very related to my background, I'm a D.C. artist … I'm part of the city now." Her work has been shown in local galleries such as Curator's Office, Civilian Art Projects, Transformer and Washington Project for the Arts. Her most recent work, Latin/American Diet, a video collaboration with Kristina Bilonick, is on view as part of Greater Reston Arts Center's BITE exhibition until July 29.
---
Excerpt from Sculptures reshape a New Hampshire mountain
By Patricia Harris and David Lyon | July 03, 2011
"..Shortly up the main trail, we were literally ambushed by art: Colombian artist Carolina Mayorga's group of five rusted steel silhouettes of figures wearing caps and carrying rifles. Almost hidden in the foliage, they seem to be waging a guerrilla war in the New Hampshire woods. At the Andres Institute they are labeled "Untitled," but Mayorga lists the group as "Ambush I" on her resume…"
---
Hot Off The Presses: A Pot Full Of Issues
Photo credit:
By Dave Gustine
Transformer Gallery
By Rachel Beckman, Washington Post Staff Writer
Thursday, July 19, 2007; Page C01
view/download pdf
Last week at Transformer Gallery, people were eating "newspaper soup," a boiled mixture of water, chicken bouillon and strips of newspaper. Artist Carolina Mayorga served the chunky, inky concoction to a few brave attendees, one of whom said it tasted like "dirty chicken."
Transformer's Executive Director Victoria Reis sipped the newspaper soup broth but "didn't go there with the chunks," she says.
"I figure the alcohol kills the toxic stuff," Reis says, gesturing to her glass of white wine.
Mayorga was inspired to create the art installation, called "New Trends in South American Cuisine," after hearing about people eating newspaper soup in Colombia, where she is from.
"It's about poverty because people do that out of starvation," Mayorga says. "It's also playing with the idea of consumerism."
Her show included a video of a mock infomercial for the soup and packages of the ingredients, on sale for $1.50. Mayorga would sell only one package per customer because "you only get what you need," she says. She sold about 45 packages at the opening reception.
The soup's list of ingredients takes a jab at the media: Each package says it contains two cups of advertisements, one cup of sports and only 1/2 teaspoon of art and culture (she used The Washington Post for all of her soup).
During the reception, Mayorga played merengue music and cooked under a picture of palm trees at sunset.
"I wanted to play with the stereotype of Latinos being dancers and always festive," she says.
Mayorga's installation kicked off a series of week-long exhibitions at Transformer called "E4: Station to Station." The series features the four participants in this year's Exercises for Emerging Artists program, which links artists with mentors for biweekly critiques.
Tonight, Arlington-based video artist Rob Parrish will present his new work, "Jack" (as in Bauer, Kiefer Sutherland's character in TV's "24"). Parrish combines footage from "24" with the Department of Homeland Security's color-coded threat advisory system. It's a video about lying, and it critiques both "24" and the advisory system as "absurd propaganda," Parrish says.
Inside the gallery she'll play recordings of the swish-swoosh of herself ice skating. Outside on P Street, she'll draw figure eights by attaching chalk to in-line skates. Adams plans to skate each day around 2 a.m. to avoid cars.
Toosi is setting up a faux accounting firm called H&R CABBAGE to calculate gallery visitors' personal carbon emissions. She'll be at Transformer full time from Aug. 1 to 4 for this performance piece, titled "You're Not as Green as You Are Cabbage-Looking."
Toosi says she's poking fun at the trendiness of environmentalism and also giving people a tangible idea of their carbon footprints.
"I'm usually interested in things that are in the spotlight because they come and go," she says. "In fact, it's a very long-lasting issue."
"E4: Station to Station" runs through Aug. 4 at Transformer Gallery, 1404 P St. NW. Wednesday-Saturday, 1-7 p.m. Free. 202-483-1102.
---
Mentor Exercise: Transformer's developmental program offers support to up-and-coming artists.
By Zoe Pollock
Posted: July 5, 2007
" 'Emerging' is such an odd buzz word," says Victoria Reis, executive director of Transformer and co-founder of the gallery's Exercises for Emerging Artists program. "It has more to do with experimentation than with younger artists. Artists can be emerging at all different stages of their careers."
That's certainly true for 43-year-old Rob Parrish, one of the artists in Transformer's upcoming exhibit, "E4: Station to Station." Parrish, who's been creating video art for the past 16 years, joins three other artists participating in the latest installment of the four-month developmental program. Launched in 2004, Exercises brings artists together to discuss ideas and processes, as well as to undergo peer and mentor critiques on a bi-weekly basis. The whole project culminates with an exhibit of their work.
"It's an opportunity for artists to connect with their peers and mentors, once they're outside of the art-school experience," Reis says of the program. "Unless you're being nurtured by a gallery, you're not always engaged by fellow artists….We provide support for them, whether it's finalized projects or just a presentation point."
Reis says she initially sought out guest curator Niels Van Tomme—who serves as the co-director of the International Curators Program Antwerp and, in April, curated the four-day "Multimediale" arts festival here—because of his background in film and mixed media. He and an assortment of artists, including visual artist Alberto Gaitán and Corcoran Curator of Photography and Media Arts Paul Roth, offered guidance and feedback to the program's artists as they developed their work. The idea is that work will be first shared within the immediate circle of the participating artists, then with the mentors, and then opened to a public audience for feedback, says Reis.
"It was a little nerve-wracking, allowing perfect strangers to look at things that aren't finished," Parrish notes, before adding that "the process branched me off into some other projects that wouldn't have bubbled off, left to my own devices."
Due to space restraints and the expansive nature of multimedia, Van Tomme decided early on that each artist would require a four-day solo installation. "We knew it wouldn't be a normal exhibition with paintings or photos, but an experiential space for each station of work," he says.
"E4" opens with Carolina Mayorga's "New Trends in South American Cuisine" (July 11n14), which explores themes of social politics and protest through video, performance, and installation art. Parrish's "Jack" (July 18n21) mixes television and archival footage in the examination of propaganda and manipulation. Former figure skater Rebecca C. Adams analyzes the pedantic tracing of figure eights in "Compulsory Figures and ∞" (July 25n28). In her environmental performance piece, "You're Not as Green as You Are Cabbage-Looking" (Aug. 1n4), Fereshteh Toosi will calculate carbon emissions for audience members.
As Reis' program continues to develop up-and-coming talent in the D.C. area, it also continues to solidify Transformer's reputation as a site for experimentation, capable of both creativity and professionalism. "In their approach, Transformer is very European and reminds me of alternative, underground art spaces in Brussels and Antwerp," says Van Tomme. "Many times art tries to take itself so seriously. Transformer does take art seriously, but they are also rock and roll.""E4: Station to Station" opens Wednesday, July 11, and is on view from 1 to 7 p.m. Wednesdays through Saturdays, to Saturday, Aug. 4, at Transformer, 1404 P St. NW. Free. (202) 483-1102.
dcist.com
SiteProject Sets Up Shop on 14th Street
June 18, 2007
[excerpt]
"New Arrivals (pictured) by Caroline Mayorga is on display at Garden District, a neighborhood nursery. The piece places bright green cutouts of praying mantises on a brick wall outside of the store. The installation is one of the more purely aesthetically pleasing, as is an untitled bamboo sculputre by Piero Passacantando that hangs above the entrance to Muleh. The piece resembles a large windchime and gives an organic feel that is an affecting contrast to the rigidity of its surroundings. Other pieces of note include Cycles, Elements and Spaces in Between, a multimedia interactive design by Roberto Bocci that is on display at Metropolis at 14th and P, and Michael Lease's The Lack of Words, a photographic piece at the old Church of the Rapture at 14th and T."
---
Added 'Dimensions'
By Michael O'Sullivan
Washington Post Staff Writer
Friday, July 23, 2004; Page WE28
DON'T TAKE too literally the title of the exhibition "Sculpture in Four Dimensions" at the Art Museum of the Americas. In the words of Sculpture magazine Managing Editor Twylene Moyer, who organized the juried show with museum director Ana Maria Escallon from submissions that were both international and local (more on this later): "Don't expect any concrete representations of the hypercube's abstract geometry here." In other words, even though some works incorporate such airy-fairy media as "time" (one of the ingredients in David Meyer's "False Theory"), this is a show in which the definition of the titular dimension falls closer to something like "poetry" or "unexpected possibilities" than anything that can be measured with a yardstick, albeit a theoretical one.
What this also means, in practical terms, is that the most successful pieces, at least in terms of hewing to the theme, are those that are the most difficult to see.
I'll start with one example, which a casual visitor might easily overlook, if for no other reason than the fact that it's unlabeled. In fact, if you walk outside the museum to get to the garden behind it, where several of the sculptures have been installed, there's a good chance you'll find yourself standing on this particular artwork. There is no sign — at the request of sculptor Carolina Mayorga of Colombia, I'm told — because the artist didn't feel her piece was successful.
She's wrong.
Called "Grass Clock" and consisting of words "written" in brown sod that the artist had previously covered up next to the museum's outdoor pool, the simple work is as conceptual as it is sculptural. On the afternoon I visited, just before the opening reception, this message in patches of dried grass was faint but discernable: "As this sculpture fades, 22,500 children will die in war." By the time you see it, more of the once-green ground cover will assuredly have filled in, making it even harder to read, just as Mayorga's prophecy will have assuredly drawn closer to its sad fulfillment.
Other works vie with Mayorga's in subtlety, if not political punch, among them Katherine Kavanaugh's "Air," a gorgeous, site-specific installation — no, make that flock — of sewing needles stuck into the wall near the second-floor bathroom. Along with Margaret Boozer, Lynden Cline, Chas Colburn, Carolyn Jean, Erin Root and others, Kavanaugh is one of several fine Washington area sculptors whose works are showcased here. The show itself is one of several in an ongoing celebration of the 20th anniversary of the Washington Sculptors Group, who in this case have been paired with artists from the Americas (e.g., Argentina, Chile, Peru). I particularly liked Boozer's "Cross Eye Bird," a composition whose central, unearthed root, framed by an old wagon wheel, is a Duchampian departure from her more familiar ceramic art.
Intriguingly, the women outnumber the men here more than 3 to 1.
Could this perhaps account for that certain — oh, I don't know — delicacy alluded to earlier? It's probably sexist to even suggest that, yet it's easy for the thought to cross one's mind when encountering works incorporating feathers, hanging rayon paper, flour (and flowers), lipstick, optical fiber, porcelain, velvet, salt and dead bugs embedded in sheets of resin. To be sure, some of these materials appear in pieces by men, and there are certainly women in the show who work with steel — as well as other, more "rugged" material.
Gender aside, though, the truest reason for this daintiness is the show's theme, which emphasizes ineffable qualities that go beyond length, width and height. As is often the case, the more unorthodox the material — or, more specifically, the more fragile and ephemeral a work is — the more it draws our attention away from what it's made of to the immaterial. Sharyn O'Mara's "Untitled: corner 1," a gossamer-like cloud of shimmering optical fiber and monofilament that suggest a beatific visitation, is such a piece. So is Lucy Norman Spencer's "Her Jewels," a sweet little nest of burnt wood containing egglike balls of Kosher salt and paraffin wax.
In a town known for its earthbound sculpture gardens, memorials, monuments and equestrian statuary, "Sculpture in Four Dimensions" is a welcome respite. The airiness and ethereality of its art do not, for the most part, connote a lack of gravity. Yes, there are some clunkers in this jewelry box of a show, but there also are some real gems.
SCULPTURE IN FOUR DIMENSIONS — Through Sept. 30. Art Museum of the Americas, 201 18th St. NW (Metro: Farragut West). 202-458-6016. www.oas.org/museum. Open Tuesday-Sunday 10 to 5. Free.
---
High Impact: Death, Suffering and Salvation at School 33
By Mike Giuliano
Baltimore City Paper
February 14, 2001
[excerpt]
The three artists featured in the current exhibit at the School 33 Art Center's Gallery I, New Work, have Latino backgrounds that are reflected to varying degrees in the art they make.
Alexandria, Va., artist Carolina Mayorga's mixed-media works directly refer to the combustible political situation in Colombia. Woodcuts by Washington, D.C., artist Naul Ojeda include quotations from Chilean poet Pablo Neruda. And Baltimore artist Luis Flores, who usually incorporates specific personal references in his work, has an installation here that's loosely autobiographical at best.
Mayorga's varied offerings plunge us into the bloody specifics of an uncivil society. Her pieces include "Mortal Journey I," a series of 24 wooden panels on which the combination of printed male names and splattered red paint makes us think about individuals brutally cut down. "Mortal Journey I Floor Game" involves red footprints lined up on the floor as if to invite your feet to walk a certain path, game "rules," and biographical data about murdered and missing young men from the pages of a Colombian newspaper.
There's no denying the power of her artistic approach, but Mayorga's best pieces are allusive rather than so bluntly graphic. In the wall-mounted, mixed-media construction "US," a wooden panel serves as the backing for a padlock and the soles of a pair of shoes. In several related pieces, the affixed objects include barbed wire and baby shoes. These pieces resonate in a more poetic and yet no less visceral manner than the "Mortal Journey" pieces. There's a sense of sorrow that assumes a particular loss and also extends to a more universalized sense of oppressed and truncated lives. By way of analogy, consider how gun-control activists in our own country have made their point by lining up the shoes of murder victims along the marble steps of legislative buildings–a subtle tactic more effective than distributing grisly crime-scene photographs might be."